The typography of Palm Beach County has a vast amount of lakes, canals and limitless ocean. We have visitors asking where they can find restaurants on the water to enjoy a meal and drinks with friends and beautiful views. Here are some of our suggestions: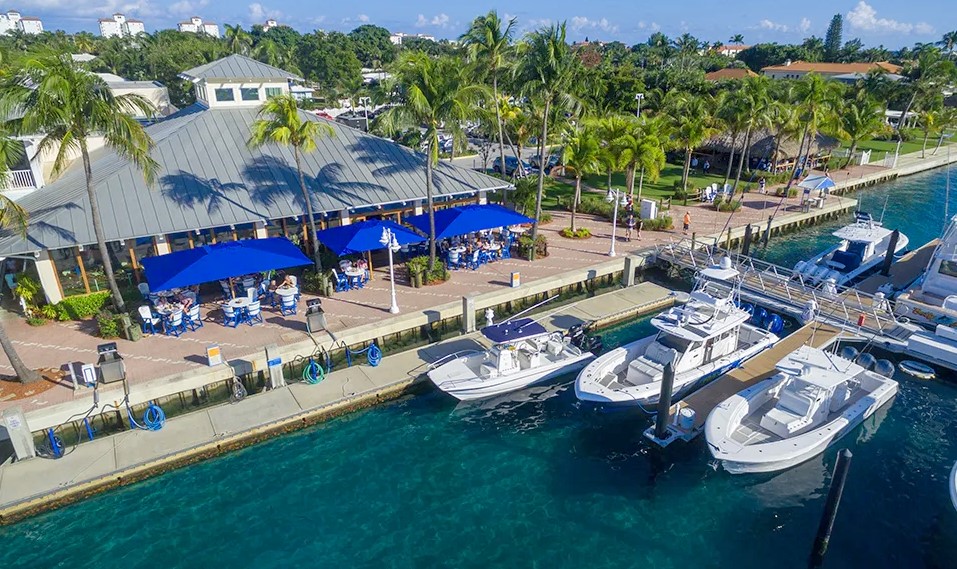 Waterfront dining with daily features. Enjoy lunch or dinner at the Sailfish Marina Restaurant, where fresh local seafood is the true star of the menu. Your choices range from Abaco grouper and dolphin to Florida spiny lobster and stone crabs bought right off our fishing boats when available. The Sailfish Marina Resort is a tropical vacation paradise with Old Florida charm. Home to a world-famous fleet of luxury sport fishing yachts and water taxis that will take you cruising through the Palm Beaches and makes its way into our list of West Palm Beach Restaurants on the Water. Website
(561) 842-8449
98 Lake Drive
Palm Beach Shore, FL 33404
Benny's was founded in 1986 and has become a popular local surfside dining landmark on the historical Lake Worth Beach Pier, with the most splendid views of the ocean. Owners Lee Lipton, Chef Jeremy Hanlon and Dylan Lipton have created a phenomenal restaurant offering incredibly fresh and flavorful food, refreshing cocktails and family friendly service for all of our guests, located directly over the ocean. Website
(561) 582-9001
Lake Worth Pier
10 South Ocean Blvd
Lake Worth Beach, Fl 33460
Florie's is a restaurant and bar in partnership with Mauro Colagreco, his first in the United States. The chef behind three-Michelin starred Mirazur in Menton, France, Florie's is a nod to Florida and Chef Mauro's passion for gardening. On the iconic island of Palm Beach, Florie's delivers the spirit of the Mediterranean through live fire cooking and earth-conscious offerings inspired by nature. Website
(561) 582-2800
2800 S Ocean Blvd,
Palm Beach, PL 33480
Family-owned and operated establishment that includes a full-service restaurant and bar. Old Key Lime House boasts waterside ambiance with views of the South Florida Intracoastal Waterway, and a Gator viewing site.  Website
561-582-1889
300 East Ocean Avenue
Lantana, FL
Banana Boat is seen as a landmark "anchor" to the restaurant and nightlife activities in Boynton Beach. As a family business, they take great pride in offering that "Authentic Florida Experience" for those locals and tourists seeking fresh seafood, fun appetizers, sandwiches and cocktails, at reasonable prices, overlooking the waterfront in Boynton Beach.
When the Banana Boat started back in 1978, most of today's staff still had not been born yet. Boynton Beach was just a quiet fishing village back then. The Boynton Beach mall would not be built for another 7 years. The giant Motorola factory on Congress (since demolished, now the Renaissance Commons) was still farmland. In fact all of Congress Avenue was still farmland. There was not one restaurant on Congress Avenue at that time. My, how things have changed! Website
561-732-9400
739 E Ocean Ave
Boynton Beach, FL 33435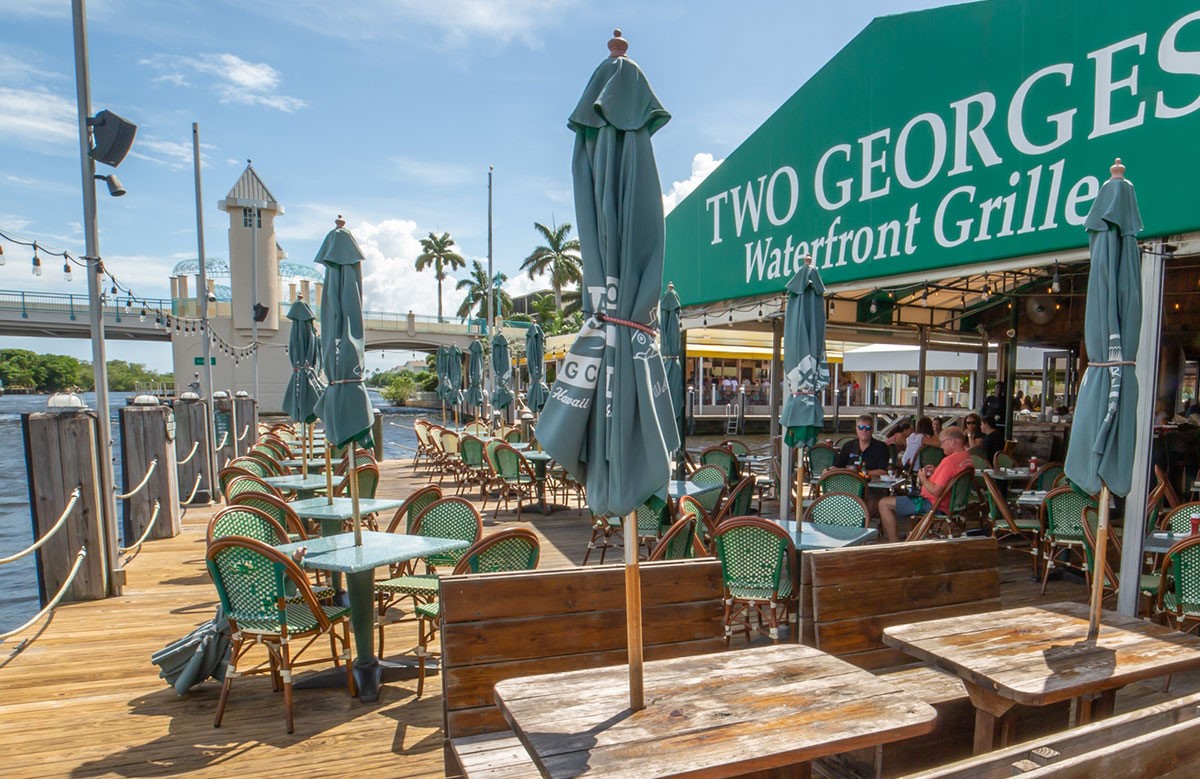 It all started in 1946, shortly after WW2. Maryland locals Harry Scaggs and Fred Howlin bought an old country store in Four Corners, Maryland and turned it into a restaurant and bar. Fred and Harry's quickly became an institution to folks around the area and was sold in 2001.
The Scaggs family has been very fortunate in the restaurant business and we attribute a large part of the success to the dedicated management and staff. We also recognize our loyal customers across the country and thank you for your role in our 70+ years of business. Two Georges makes its way into our list of West Palm Beach Restaurants on the Water Website
561-736-2717
728 Casa Loma Blvd, Boynton
Beach, FL 33435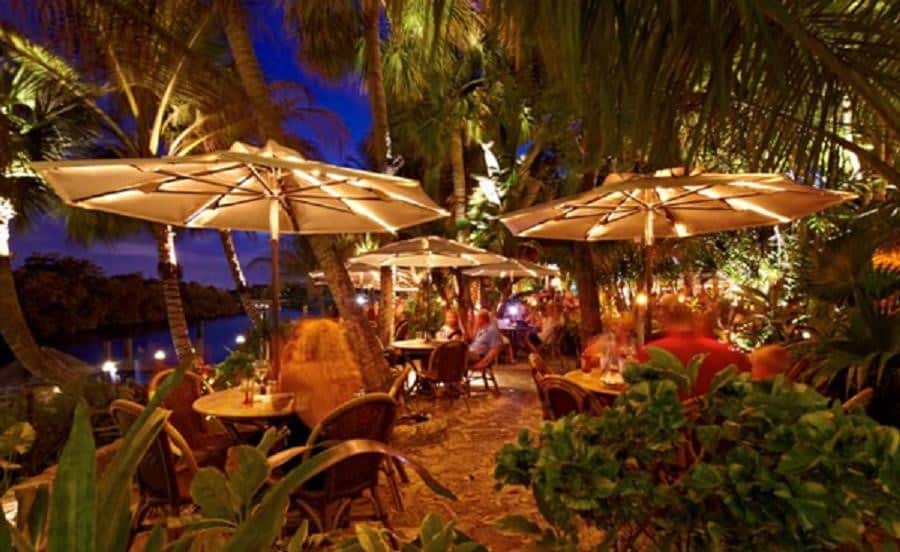 Opened by Jupiter surfers as a sandwich shop in 2004, Guanabanas has grown to become an institution in northern Palm Beach County for three reasons: The lush, tropical setting; great cuisine and cocktails; and live music from both national acts and the hottest names in South Florida. Website
(561) 747-8878
960 North Highway A1A
Jupiter, FL 33477

Come for fresher-than-fresh seafood for lunch or dinner. Stay for inspired cocktails or something from our extensive wine-by-the-glass selection. A glamorous exhibition kitchen puts you at the center of it all. Stroll in as you are and experience the allure of the yachting lifestyle. Bespoke nautical details, beautiful aquariums, and a front-row seat to the ocean views no matter where you sit. Nothing short of spectacular, this is Palm Beach life at its best. Website
(877) 724-3188
One South County Road
Palm Beach, FL 33480
Established in 2020, Viva La Playa is the inspiration of Lee Lipton, Chef Jeremy Hanlon and Dylan Lipton who continue the same excitement and memorable experience at Lake Worth Beach with a new culture, casual resort setting, and cuisine. Viva La Playa is a special addition to the "where every day is a vacation" vibe at Lake Worth Beach and showcases another beautiful view of the ocean. With a front view of the Atlantic Ocean and an unobstructed rear view of the western horizon on our sunset patio, there is always a space within Viva La Playa that creates a memorable setting for all occasions. Website
(561) 247-7245
10 South Ocean Boulevard
Lake Worth Beach, Florida 33460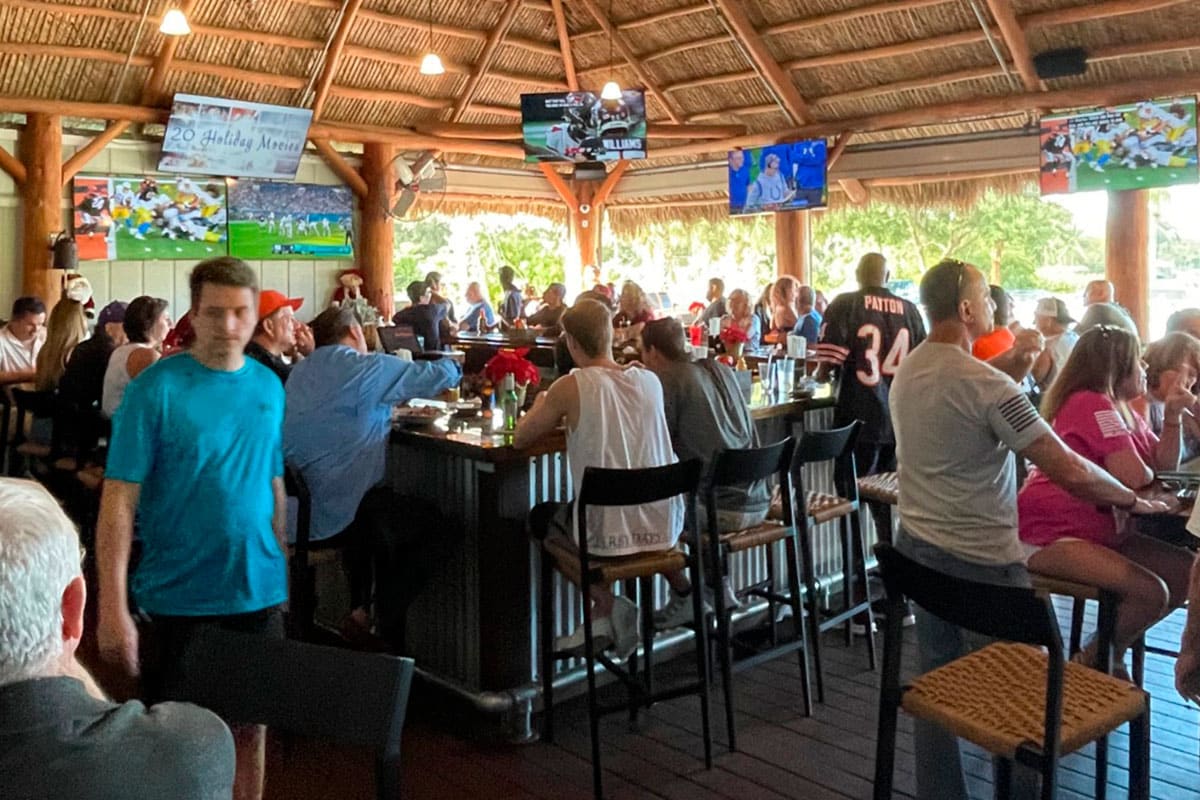 The Calautti Family has been serving the finest quality food since since 1964. The Hive Waterfront takes that experience to the next level giving you the choices of casual fine dining inside and a more relaxed atmosphere outside in our tiki bar lounge. Whether you're in the mood for the best wings in town or maybe you're taking the family out for our famous prime rib dinner you will never be dissatisfied at The Hive Waterfront. The original Hive started back in 2016 and has grown to be a local favorite and now The Hive Waterfront gives us the opportunity to serve more people in Palm Beach County, so buzz on over and let our staff show what the buzz is all about! Website
(561) 513-9168
618 W Lantana Rd
Lantana, FL 33462
What's more romantic than an oceanfront dinner under the stars?  Your private dining experience includes a  champagne toast, a luxury bottle of wine, personal butler and a five-course dinner.  Celebrate the Atlantic's bounteous "fruits de mer" from the coasts of Florida and the Caribbean, while basking in the sun-splashed Palm Beach lifestyle. Enjoy a selection of award-winning local craft beers at our oceanfront Palm Beach restaurant.
Enjoy al fresco dining overlooking the azure waters of the Atlantic at Breeze Ocean Kitchen. The perfect oceanfront restaurant for locals, resort guests and groups to enjoy, Breeze promises stunning views and casual seaside fare in a relaxing setting and makes its way into our list of West Palm Beach Restaurants on the Water. Website
561-533-6000
100 SOUTH OCEAN BLVD.
MANALAPAN, FL 33462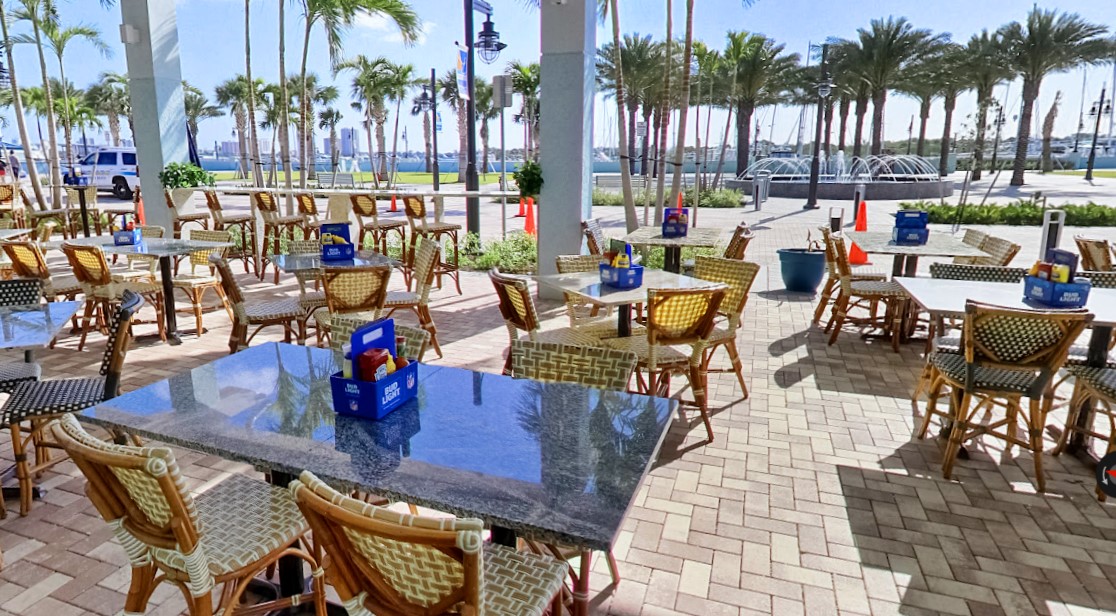 This unique cuisine is a fusion of the tropical fruits and spices of the Caribbean with the fresh seafood and citrus of Florida.  Floribbean inspired menu  cuisine is perfect for someone who loves to eat fresh and flavorful food. Website
(561) 812-2240
Riviera Beach Marina Village
190 E 13TH ST.
Riviera Beach, FL 33404
The Frigate bird is legendary to sport fishermen and its presence is an indicator to a bountiful catch, good times and success. After a long day, sea wary sportsmen return to their favorite speakeasy to enjoy refreshing beverages, great food, music and laughter while recounting their day's adventure. Many of these speakeasies became legendary in their own right. Frigate's Waterfront Bar & Grill is one of those gathering places, located in beautiful North Palm Beach, Florida. Come by land or by boat to enjoy our casual fine dining and hand crafted drinks, all while being nestled beneath the tropical palms, surrounded by island music, enjoying your favorite food and beverage. Website
(561) 855-7497
400 US-1
North Palm Beach, FL 33408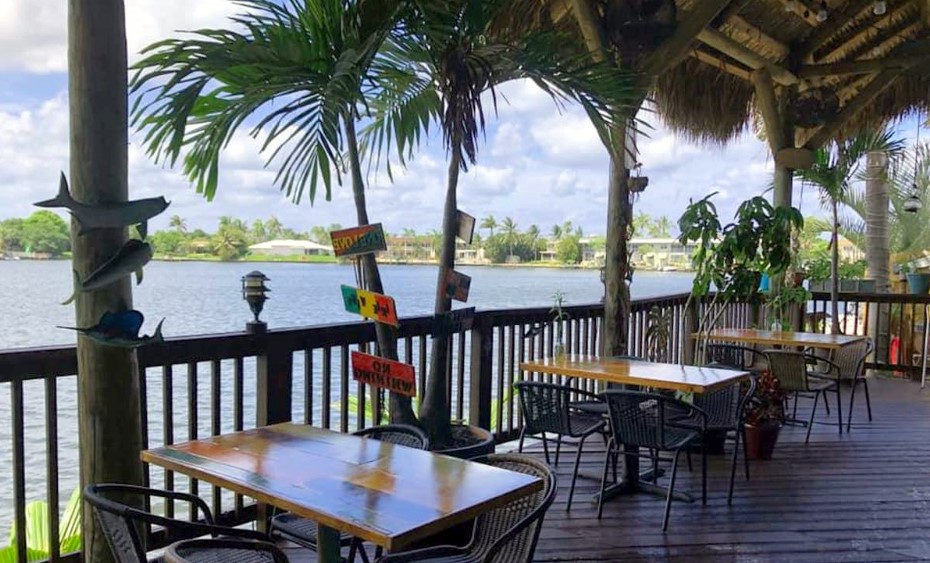 The Catch is a specialty seafood and sushi restaurant right on the water in the heart of North Palm Beach. We create delicious food with a beautiful presentation and with our perfect location on the water, we are your next favorite little spot. Come see us, we have live music and friendly service. Be the first of your friends to experience The Catch. Website
(561) 842-2180
766 Northlake Boulevard
Lake Park, FL 33408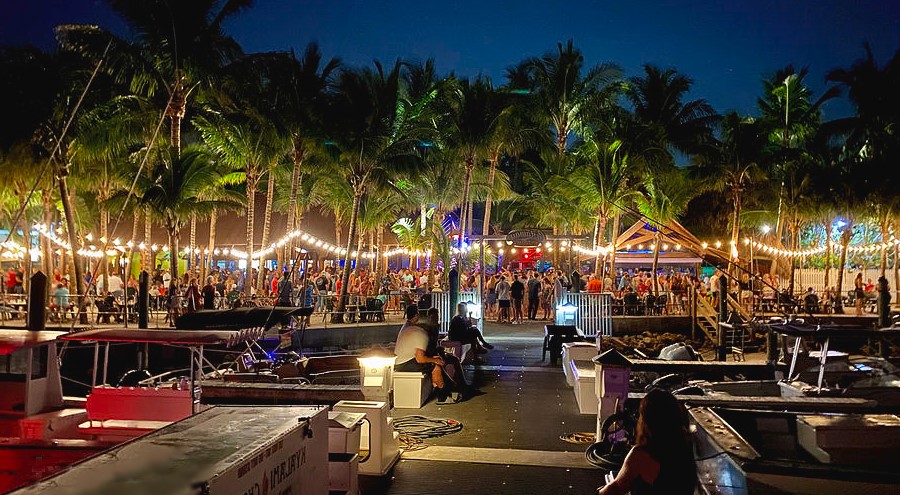 The Square Grouper Tiki Bar in Jupiter has grown to become one of the most popular watering holes in the United States. It is the home of several music videos, including Alan Jackson's hit "It's Five O'clock Somewhere" with Jimmy Buffett. A little hidden gem nestled among the palm trees at the end of Love Street, with beautiful water views of the Jupiter Inlet and its famous lighthouse, this local landmark boasts the 19-slip Castaways Marina and the most stunning scenery in the area. Website
(305) 745-8880
1111 Love Street
Jupiter, FL 33477
U-Tiki is a restaurant/bar with indoor and outdoor seating with a view of the lighthouse. Docking for boats, along Jupiter Inlet for Riverwalk.  Wet/Dry Boat Storage, & the Water Taxi stops there. Website
(561) 406-2210
1095 N. Highway A1A
Jupiter, FL 33477
Executive Chef Kelley Randall of SeaSpray Inlet Grill in Boca Raton is keen on bringing elevated Florida coastal cuisine to each guest and each plate served, using fresh, seasonal, engaging ingredients, and keeping both the menu and atmosphere approachable, calm and tropical. SeaSpray will serve an all-day menu of popular seasonal offerings for lunch, happy hour and dinner, with brunch to launch in the Fall.
You can come by boat or by car, to enjoy delicious signatures including Smoked Fish Dip, Mahi Reuben, SeaSpray Burger, Chef's Catch, Grilled Octopus, SeaSpray Cobb and others. Sweet treats including Campfire S'Mores, Key Lime Pie and Flourless Chocolate Cake are must-try's along with a full selection of frozen drinks, mojitos, coladas and daiquiris, and signature cocktails including Whiskey Stone Sour, Planter's Punch, Pomegranate Martinis and a quality wine and beer selection. Website
(561) 226-3022
999 E Camino Real
Boca Raton, FL 33432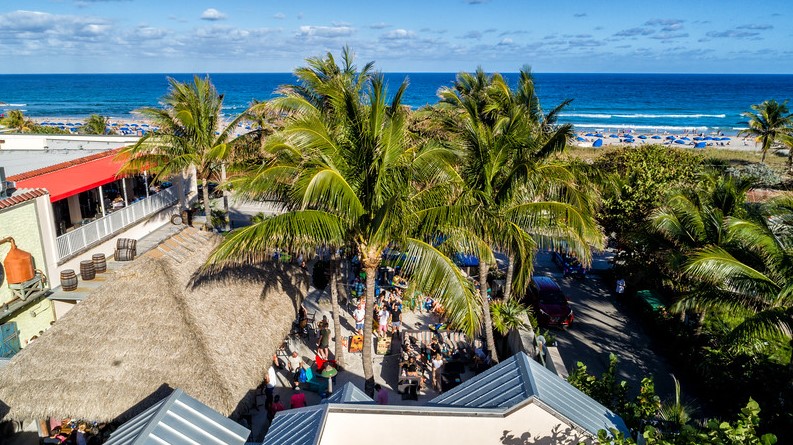 Located on Delray Beach offers guests all of the elements of a world-class venue with none of the attitude. The quintessential hot spot, Sandbar fuses the appeal of a relaxing beach day and a high-energy nightclub. Sandbar features a variety of special guest DJ performances and offers VIP bottle service, private parties and unmatched ocean views. Website
(561) 251-2246
40 South Ocean Blvd., A1A
Delray Beach, FL 33483
Boasting a comprehensive list of 45 beers from local craft breweries, as well as those throughout the Southeast, Lucky Shuck is a destination for beer enthusiasts and curious novices alike. Owing up to its Taphouse name, along with beers on tap, cocktails, and wine be served on tap as well. Lucky Shuck will also feature a New Orleans-inspired cocktail menu, plus a wine list curated to pair with the restaurant's distinctive, seafood-focused cuisine. Website
(561) 532-3331
1107 Lighthouse Promenade
Jupiter, FL 33477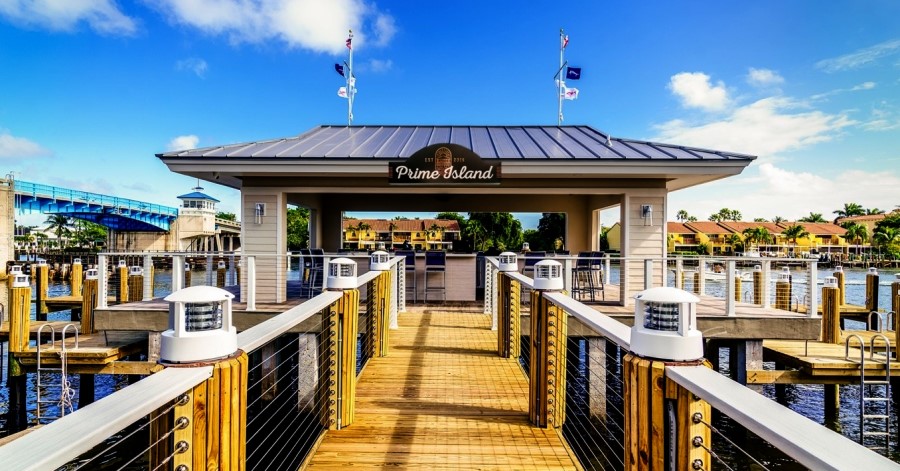 Prime Catch features water views from every table. Come by and relax with extraordinary company at our indoor and outdoor spaces — including Prime Island, our new island bar located in the Intracoastal. We were also voted OpenTable's Top 10 Diners' Choice Winners list for Best Seafood Restaurant in Palm Beach County. We invite you to experience the freshest seafood, delicious cocktails, and our complete redesign! Website
(561) 737-8822
700 East Woolbright Road
Boynton Beach, FL 33435
Located in historic and family owned Sportsman's Park Marina (est. 1962), Kona has become a destination for locals and tourists alike. They work closely with the other marina businesses and even encourage customers to bring their catch from the Lady K drift boat and they will cook it for you.  Website
(561) 429-3606
310 East Ocean Avenue
Lantana, FL 33462
The Beach Club on the 2aterfront is situated in the Beautiful Old Florida Charm of Lake Worth Golf Course. A casual affordable waterfront restaurant and bar serving breakfast, lunch, and dinner 7 days a week. Featuring various events and activities for children and adults with an 18 hole championship golf course. Open to the public. No membership is required to enjoy one of Lake Worth's hidden jewels. Website
(561) 585-8976
One 7th Avenue North
Lake Worth, Florida 33460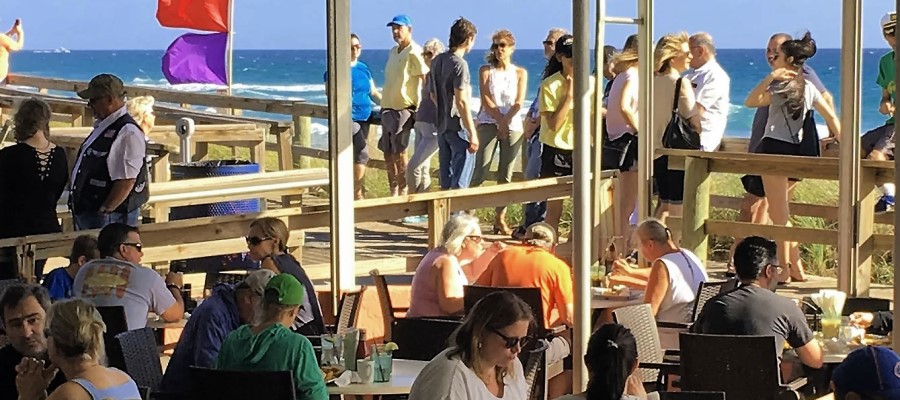 Overlooking the ocean and located in Lantana Beach. Enjoy the cool breeze in a casual tropical setting. The Dune Deck Cafe offers delicious dining combined with Florida's best scenery. One cannot help but be absorbed in the mise-en-scene palm fronds swaying, sea grapes, multi-colored flowers, and broad sweep of sand and surf of the Atlantic Ocean with it's balmy breezes that invite you to escape to the Caribbean, the French Riviera or the Greek Isles. Website
(561) 582-0472
100 N Ocean Blvd
Lantana, FL 33462
Located in Palm Beach Al Fresco is one of the only waterfront dining experiences in Palm Beach, the Al Fresco patio boasts views of the Atlantic Ocean, Intracoastal Waterways and the Palm Beach Par 3. Website
(561) 273-4130
2345 South Ocean Boulevard
Palm Beach, FL 33480
Darbster, located in West Palm Beach, is a unique plant based bistro with a creative menu that will appeal to both the plant based and mainstream diner. Our goal is to provide delicious, natural, organic and vegetarian friendly cuisine that will satisfy all tastes. Our menu includes our version of some old time classics as well as some new innovative dishes. Website
(561) 586-2622
8020 South Dixie Hwy
West Palm Beach, FL 33405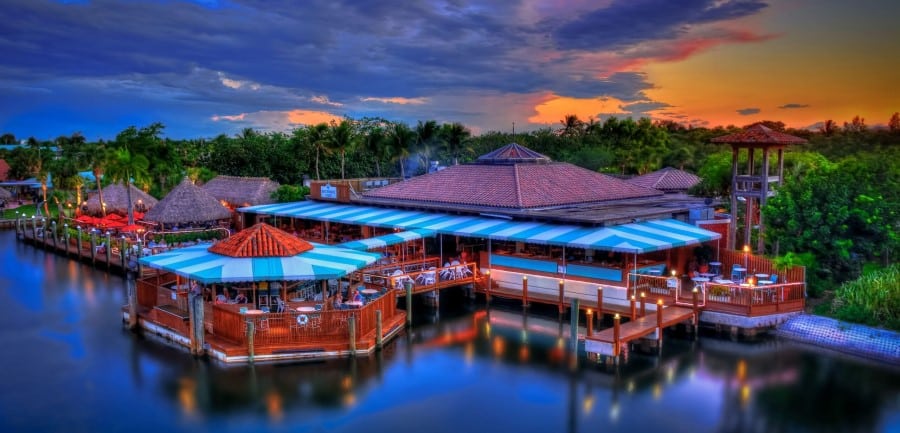 Located on the beautiful waters of the Intracoastal Waterway in Palm Beach Gardens, Florida, the Waterway Cafe is one of the most popular destination restaurants in Palm Beach County.
Waterway Café is located on the water? Featuring Florida's only floating bar, Waterway Cafe has become a longtime favorite of locals and visitors alike. Chefs serve an menu of fresh seafood, salads, steak, chicken, pasta and custom-made pizza entrees. Come for a relaxing afternoon or evening of great food and refreshing tropical drinks while enjoying the magnificent views of the Intracoastal Waterway. Website
If our readers have and other water view suggestions, please let us know!