CityPlace Business Directory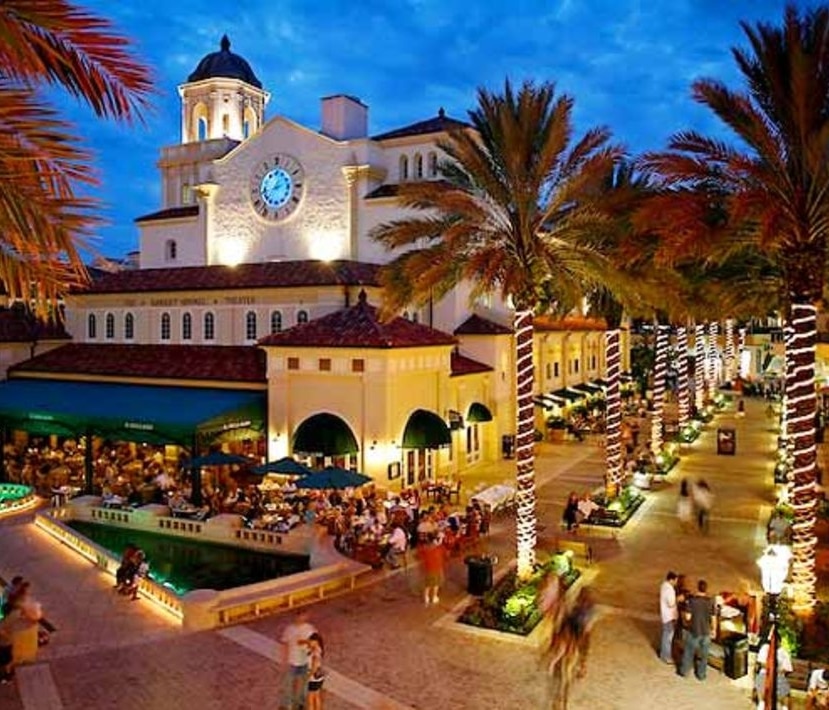 CityPlace (Rosemary Square) is comprised of 600,000 square feet of retail businesses, over 20 restaurants, a 20-screen theater, open-air plaza, cultural arts theater as well as hundreds of private residences. Come shop in a place where old-world architecture, beautiful fountains, and sidewalk cafes create an atmosphere strikingly reminiscent of a European town center. The Kravis Center for the Performing Arts borders the west side of CityPlace and walking north on Rosemary Avenue will take you straight into the Historic Clematis Street area.
Below is our CityPlace Business directory.
Click here for a map of CityPlace.
Take the FREE Molly's Trolley with pick-ups every 10-15 minutes throughout downtown West Palm Beach!
Note to CityPlace businesses: You may add, delete or amend your business listing by contacting WestPalmBeach.com here.
CITYPLACE BUSINESS DIRECTORY
ARTS & CULTURE
BEAUTY & HEALTH
ELECTRONICS
FASHION - CHILDREN
FASHION - MEN
FASHION - WOMEN
FINANCIAL SERVICES
GIFTS, CARDS & SPECIALTY
GROCERY
HOME FURNISHINGS
HOTELS
JEWELRY
NIGHTLIFE & ENTERTAINMENT
PASTRY / COFFEE / DESSERT
RESTAURANTS
SHOES
SUNGLASSES
ARTS & CULTURE
Armory Art Center Experience
700 Rosemary Ave #136
West Palm Beach, FL 33401
561.832.1776
Garala Art
701 S Rosemary Ave #127
West Palm Beach, FL 33401
561.951.4749
Return to Top
BEAUTY & HEALTH
Adore Cosmetics
701 S Rosemary Ave #159
West Palm Beach, FL 33401
561.469.7565
Anushka Spa
701 S Rosemary Ave #200
West Palm Beach, FL 33401
561.820.0500
Bath & Body Works
700 S Rosemary Ave #118
West Palm Beach, FL 33401
561.355.6938
Jamba Juice
460 S Rosemary Ave #170
West Palm Beach, FL 33401
561.508.7892
LA Fitness
700 S Rosemary Ave #104
West Palm Beach, FL 33401
561.402.8202
SEE Eyewear
600 S Rosemary Ave
West Palm Beach, FL 33401
561.805.9331
Sephora
550 S Rosemary Ave #144
West Palm Beach, FL 33401
561.651.7633
Sunglass Hut
550 S Rosemary Ave #146
West Palm Beach, FL 33401
561.655.7219
Venetian Nail Spa
460 S Rosemary Ave #178
West Palm Beach, FL 33401
561.509.5977
Return to Top
ELECTRONICS
iFixandRepair
Mobile Phone Repair
600 S Rosemary Ave #156
West Palm Beach, FL 33401
561.450.9349
Return to Top
FASHION - CHILDREN
H&M
700 S Rosemary Ave
West Palm Beach, FL 33401
855.466.7467
Life In Palm Beach
700 S Rosemary Ave #128
West Palm Beach, FL 33401
561.833.0162
Lucky Brand
700 S Rosemary Ave #126
West Palm Beach, FL 33401
561.366.4596
Return to Top
FASHION - MEN
Fitness Hub Activewear
700 S Rosemary Ave
West Palm Beach, FL 33401
561.408.0884
H&M
700 S Rosemary Ave
West Palm Beach, FL 33401
855.466.7467
Life In Palm Beach
700 S Rosemary Ave #128
West Palm Beach, FL 33401
561.833.0162
Lucky Brand
700 S Rosemary Ave #126
West Palm Beach, FL 33401
561.366.4596
Tommy Bahama
701 S Rosemary Ave #137
West Palm Beach, FL 33401
561.803.4696
Return to Top
FASHION - WOMEN
Anthropologie
700 S Rosemary Ave #124
West Palm Beach, FL 33401
561.805.8770
Anushka Spa
701 S Rosemary Ave #200
West Palm Beach, FL 33401
561.820.0500
Fitness Hub Activewear
700 S Rosemary Ave
West Palm Beach, FL 33401
561.408.0884
francesca's
701 S Rosemary Ave #157
West Palm Beach, FL 33401
561.650.0320
H&M
700 S Rosemary Ave
West Palm Beach, FL 33401
855.466.7467
Life In Palm Beach
700 S Rosemary Ave #128
West Palm Beach, FL 33401
561.833.0162
Lucky Brand
700 S Rosemary Ave #126
West Palm Beach, FL 33401
561.366.4596
Tommy Bahama
701 S Rosemary Ave #137
West Palm Beach, FL 33401
561.803.4696
Victoria's Secret & PINK
700 S Rosemary Ave
West Palm Beach, FL 33401
561.833.4248
Return to Top
FINANCIAL SERVICES
Capital One Café
701 S Rosemary Ave #101
West Palm Beach, FL 33401
561.273.8275
Regions Bank
525 Okeechobee Blvd #100
West Palm Beach, FL 33401
800.734.4667
TD Ameritrade
701 S Rosemary Ave #103
West Palm Beach, FL 33401
561.837.2110
Return to Top
GIFTS, CARDS & SPECIALTY
Life In Palm Beach
700 S Rosemary Ave #128
West Palm Beach, FL 33401
561.833.0162
Paper Source
700 S Rosemary Ave #130
West Palm Beach, FL 33401
561.650.0057
Return to Top
GROCERY
Publix
375 S Rosemary Ave
West Palm Beach, FL 33401
561.651.7787
Return to Top
HOME FURNISHINGS
Anthropologie
700 S Rosemary Ave #124
West Palm Beach, FL 33401
561.805.8770
Casper
700 S Rosemary Ave #120
West Palm Beach, FL 33401
561.323-7751
francesca's
701 S Rosemary Ave #157
West Palm Beach, FL 33401
561.650.0320
Natuzzi Italia
701 S Rosemary Ave #117
West Palm Beach, FL 33401
561.629.5387
Restoration Hardware
560 Okeechobee Blvd
West Palm Beach, FL 33401
561.804.6826
The Shade Store
701 S Rosemary Ave #123
West Palm Beach, FL 33401
561.282.1108
Unopiu'
701 S Rosemary Ave #131
West Palm Beach, FL 33401
561.405.8829
Return to Top
HOTELS
Hilton / Downtown
600 Okeechobee Blvd.
West Palm Beach, FL 33401
Reservations
Hyatt Place / Downtown
295 Lakeview Ave.
West Palm Beach, FL 33401
Reservations
Marriott / Downtown
1001 Okeechobee Blvd.
West Palm Beach, FL 33401
Reservations

Palm Beach Hibiscus
213 South Rosemary Avenue
West Palm Beach, FL 33401
Reservations
Residence Inn by Marriott
455 Hibiscus Street
West Palm Beach, FL 33401
Reservations
Return to Top
JEWELRY
francesca's
701 S Rosemary Ave #157
West Palm Beach, FL 33401
561.650.0320
H&M
700 S Rosemary Ave
West Palm Beach, FL 33401
855.466.7467
Life In Palm Beach
700 S Rosemary Ave #128
West Palm Beach, FL 33401
561.833.0162
Lucky Brand
700 S Rosemary Ave #126
West Palm Beach, FL 33401
561.366.4596
Return to Top
NIGHTLIFE & ENTERTAINMENT
AMC CityPlace 20
545 Hibiscus Street
West Palm Beach, FL 33401
561. 833.2310
Blue Martini
550 S Rosemary Ave #244
West Palm Beach, FL 33401
561.835.8601
Copper Blues Rock Pub
550 S Rosemary Ave
West Palm Beach, FL 33401
561.404.4101
DivaDuck Amphibious Tours
700 S Rosemary Ave #128
West Palm Beach, FL 33401
561.833.0162
The Improv Comedy Club
550 S Rosemary Ave #250
West Palm Beach, FL 33401
561.833.1812
Kravis Center for the Performing Arts
701 Okeechobee Boulevard
West Palm Beach, FL 33401
Schedule & Tickets

Return to Top
PASTRY / COFFEE / DESSERT
Le Macaron
Pastry Shop
600 S Rosemary Ave #166
West Palm Beach, FL 33401
561.360.2551
Rita's Italian Ice
Italian Ice / Ice Cream
460 S Rosemary Ave #172
West Palm Beach, FL 33401
561.623.0774
Sloan's
Ice Cream / Cookies
700 S Rosemary Ave #138
West Palm Beach, FL 33401
561.835.1511
Starbucks
Coffee
600 S Rosemary Ave #140
West Palm Beach, FL 33401
561.366.8353
Tutti Frutti
Frozen Yogurt
600 S Rosemary Ave #162
West Palm Beach, FL 33401
561.318.7055
Return to Top
RESTAURANTS
4D Gelateria & Italian Gourmet
Gelato
700 S Rosemary Ave #118
West Palm Beach, FL 33401
561.655.1241
BRIO Tuscan Grille
Italian
550 S Rosemary Ave
West Palm Beach, FL 33401
561.835.1511
Brother Jimmy's BBQ
American / BBQ
700 S Rosemary Ave #232
West Palm Beach, FL 33401
561.619.5604
BurgerFi
Grass-fed Burgers
700 S Rosemary Ave #102
West Palm Beach, FL 33401
561.835.1511
Cabo Flats
Mexican
550 S Rosemary Ave #160
West Palm Beach, FL 33401
561.249.2818
Cheesecake Factory
American
701 S Rosemary Ave
West Palm Beach, FL 33401
561.802.3838
City Cellar Wine Bar & Grill
Mediterranean / Wine Bar
700 S Rosemary Ave
West Palm Beach, FL 33401
561.366.0071
City Pizza
Pizzaeria
632 Hibiscus St #110
West Palm Beach, FL 33401
561.833-2323
IL Bellagio
Italian
600 S Rosemary Ave #170
West Palm Beach, FL 33401
561.659.6160
Moe's Southwest Grill
Mexican
460 S Rosemary Ave #180
West Palm Beach, FL 33401
561.659.0361
Mojito Latin Cuisine
Cuban
550 S Rosemary Ave
West Palm Beach, FL 33401
561.832.6888
Ruth's Chris Steak House
Steakhouse
651 Okeechobee Blvd #100
West Palm Beach, FL 33401
561.514.3544
Saito's
Japanese Steakhouse
700 S Rosemary Ave
West Palm Beach, FL 33401
561.296.8881
Sweet Ginger Asian
Asian
632 Hibiscus St #116
West Palm Beach, FL 33401
561.832.8883
The Regional Kitchen & Public House
American / Southern
651 Okeechobee Blvd
West Palm Beach, FL 33401
561.557.6460
Return to Top
SHOES
francesca's
701 S Rosemary Ave #157
West Palm Beach, FL 33401
561.650.0320
H&M
700 S Rosemary Ave
West Palm Beach, FL 33401
855.466.7467
Lucky Brand
700 S Rosemary Ave #126
West Palm Beach, FL 33401
561.366.4596
Primo Comfort Shoes
700 S Rosemary Ave #130
West Palm Beach, FL 33401
561.804.0008
SUNGLASSES
SEE Eyewear
600 S Rosemary Ave
West Palm Beach, FL 33401
561.805.9331
Sunglass Hut
550 S Rosemary Ave #146
West Palm Beach, FL 33401
561.655.7219
Return to Top