Clematis Street Business Directory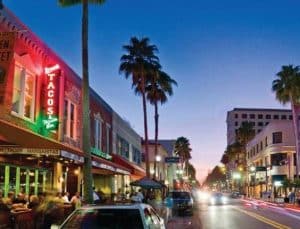 Clematis Street is the historical heart of Downtown West Palm Beach. Two of the most prominent structures, the Comeau Building and Harvey Building, date from 1925 and 1927, respectively. Starting at Flagler Drive on the Intracoastal Waterway, walk west along Clematis Street and experience the varied, unique to South Florida flavor of the area's colorful boutiques, art galleries, nightclubs, live music, restaurants, antique shops and historical landmarks. In the winter season there is the farmers' market and the spring has SunFest. Walking south on Rosemary Avenue (the western end of Clematis) will take you straight into CityPlace.
Below is our Clematis Street Business directory.
Click here for a map of the Historic Clematis Street Area.
Take the FREE Molley's Trolley with pick-ups every 10-15 minutes throughout downtown West Palm Beach!
Note to Clematis Street businesses: You may add, delete or amend your Clematis Street business listing by contacting WestPalmBeach.com here.


West Palm Beach Escape Rooms


209 South Olive Avenue
West Palm Beach, FL 33401
561.660.5120
Here at West Palm Beach Escape Rooms, we offer the highest level of immersive entertainment. Whether you are solving the mystery of a missing teacher, tracking down the Zodiac killer, uncovering a treacherous double agent, or disarming a bomb; each adventure lets you star in your very own action movie. Why watch a movie when you can star in one? Best played with groups of 4-10 people, escape rooms rely on communication skills and group effort. It's perfect for date nights, a girls' night out, corporate events, family fun, or team building …more
CLEMATIS BUSINESS DIRECTORY
APPAREL
ART GALLERIES
ATTORNEYS
ATTRACTIONS
BEAUTY
CIGAR BARS
CITY / GOVERNMENT / HELP
COFFEE / BAKERY
CONDOS - OFFICE BUILDINGS
FINANCIAL SERVICES
FURNITURE / DESIGN
GROCERY
HEALTH / FITNESS
HOTELS
MEDIA / PUBLICATIONS
NIGHTCLUBS / PUBS
RESTAURANTS
SPECIALTY SHOPS
THEATERS / PLAYS
WINE BARS / BREWERIES
APPAREL
Return to Top
Kismet Vintage
540 Clematis Street, Suite 1
West Palm Beach, FL 33401
561.865.7895
Run & Roll
330 Clematis Street. #118
West Palm Beach, FL 33401
561.650.1200
Simplicity in Mind
200 S Olive Ave
West Palm Beach, FL 33401
908 456 2518
ART GALLERIES
Return to Top
Addictive Art's House
221 South Olive Avenue
West Palm Beach, FL 33401
561.815.2806
Got Ink Studios Tattoo Shop & Art Gallery
221 South Olive Avenue
West Palm Beach, FL 33401
561.507.5727
Palm Beach Photographic Centre
415 Clematis Street.
West Palm Beach, FL 33401
561.253.2600
ATTORNEYS
Return to Top
Aaron M Chaskelson Esq
301 Clematis Street #3000
West Palm Beach, FL 33401
561.827.0267
Andrew Degraffenreidt III
319 Clematis Street, #602
West Palm Beach, FL 33401
561.832.9533
ARS Law Group PA
319 Clematis Street, #200
West Palm Beach, FL 33401
561.247.0797
Arthur T Schofield PA
330 Clematis Street, #207
West Palm Beach, FL 33401
561.655.4211
Robert T. Bergin
506 Datura Street
West Palm Beach, FL 33401
561.659.6500
Cousins Law Firm
319 Clematis Street, #701
West Palm Beach, FL 33401
561.835.1727
Deaina M Brown Esq
319 Clematis Street, #209
West Palm Beach, FL 33401
561.762.0352
Delgado Law Group
224 Datura Street, #1313
West Palm Beach, FL 33401
561.342.1429
Evelyn Ziegler
328-1/J Banyan Street
West Palm Beach, FL 33401
561.832.7496
Franklin Prince
224 Datura Street, #1407
West Palm Beach, FL 33401
561.820.1577
David J. Glatthorn
506 Datura Street, #A
West Palm Beach, FL 33401
561.659.1999
Guerrier Law Firm
319 Clematis Street, #612
West Palm Beach, FL 33401
561.822.3701
Jamie R Goodman
319 Clematis Street, #700
West Palm Beach, FL 33401
561.833.6180
Judith Ballen
301 Clematis Street, #3000
West Palm Beach, FL 33401
561.802.4127
Kaye Law Offices
301 Clematis Street, #3000
West Palm Beach, FL 33401
855.522.6735
Keller, Keller & Caracuzzo
224 Datura Street, #1205
West Palm Beach, FL 33401
561.655.3133
King & King
319 Clematis Street, #107
West Palm Beach, FL 33401
561.833.1084
Labbe Law Group
224 Datura Street, #414
West Palm Beach, FL 33401
561.820.0010
Curtis LeBlanc
319 Clematis Street, #714
West Palm Beach, FL 33401
561.281.2142
Daniel Mark Cohen
319 Clematis Street, #203
West Palm Beach, FL 33401
561.319.6335
Lemoine & Riordan
172 N. Olive Avenue
West Palm Beach, FL 33401
561.514.0234
Michael Samuel Dyer
301 Clematis Street, #3000
West Palm Beach, FL 33401
561.801.6453
Leifer Law Firm
301 Clematis Street, #3000
West Palm Beach, FL 33401
561.734.3220
Michael P. Mahar
324 Datura Street, #200
West Palm Beach, FL 33401
561.655.8233
Morse & Morse
333 Clematis Street, #209
West Palm Beach, FL 33401
561.651.4145
Pleasanton, Greenhill & Associates
330 Clematis Street, #208
West Palm Beach, FL 33401
561.833.7811
William W. Price
320 Fern Street
West Palm Beach, FL 33401
561.659.321
Scott Mersky
224 Datura Street, #307-309
West Palm Beach, FL 33401
561.837.9978
Sharmin & Sharmin
301 Clematis Street, #3000
West Palm Beach, FL 33401
561.655.3925
SPN Law Firm
301 Clematis Street, #3000
West Palm Beach, FL 33401
561.350.0369
Thaler & Thaler
700 N. Olive Avenue
West Palm Beach, FL 33401
561.659.1183
Thomas P O'Connell
301 Clematis Streeet, #3000
West Palm Beach, FL 33401
561.206.2198
Wright Law Office
319 Clematis Street, #109
West Palm Beach, FL 33401
561.514.0904
ATTRACTIONS
Return to Top
Downtown Bike Pub Crawl
301 Clematis Street, #3000
West Palm Beach, FL 33401
954.633.466
Downtown West Palm Beach Food Tour
3-hour food tour of downtown West
Palm Beach. 13 tastings/6 restaurants!
Schedule & Tickets
Kravis Center For The Performing Arts
701 Okeechobee Blvd.
West Palm Beach, FL 33401
Tickets & Schedule
Palm Beach County Convention Center
650 Okeechobee Boulevard
West Palm Beach, FL 33401
561.366.3000
Palm Beach Dramaworks
201 Clematis Street
West Palm Beach, FL 33401
561.514.4042
Palm Beach Opera
415 S. Olive Avenue
West Palm Beach, FL 33401
561.833.7888
Palm Beach Segway Tours
330 Clematis Street, Suite 116
West Palm Beach, FL 33401
561.283.8818
SunFest
525 Clematis St.
West Palm Beach, FL 33401
561.659.5980
West Palm Beach Escape Rooms
209 S. Olive Avenue
West Palm Beach, FL 33401
561.660.5120

BEAUTY
Return to Top
A G Hair Studio
610 Clematis St #106
West Palm Beach, FL 33401
561.670.2852
Amazing Feet
420 Clematis Street, B
West Palm Beach, FL 33401
561.469.2098
Curt's Barber Services
319 N Clematis Street, #116
West Palm Beach, FL 33401
561.833.5880
Hair By Imara
101 Clematis Street #128
West Palm Beach, FL 33401
561.371.3553
One XI Salon
111 S Olive Avenue
West Palm Beach, FL 33401
561.832.2944
Polished Nails
300 Clematis Street
West Palm Beach, FL 33401
561.805.7775
Sun Spray Tanning
323 S Dixie Hwy
West Palm Beach, FL 33401
561.345.3747

Winston's Nail & Facial Lounge
333 Clematis Street
West Palm Beach, FL 33401
561.429.3142


CIGAR BARS
Return to Top
Havana Quest Cigars
480 Hibiscus Street
#105
(facing Quadrille Blvd.)
West Palm Beach, FL 33401
561.876.6439
CITY / GOVERNMENT / HELP
Return to Top
American Red Cross
825 Fern St.
West Palm Beach, FL 33401
561.650.9145
Department of Motor Vehicles
301 N. Olive Avenue
West Palm Beach, FL 33401
+1 (561) 355.2264

Florida Public Defender Center
421 Third Street
West Palm Beach, FL 33401
561.355.7500
Hispanic Chamber of Commerce
420 Clematis Street
West Palm Beach, FL 33401
561.832.1986
HRS
111 S. Sapodilla
West Palm Beach, FL 33401
561.837.5078
P.B.C State Attorney
401 N. Dixie Hwy.
West Palm Beach, FL 33401
561.355.7100
Palm Beach County Administration
301 N. Olive Ave. #1101
West Palm Beach, FL 33401
561.355.2712
Palm Beach County Economic Development
301 N. Olive Ave.
West Palm Beach, FL 33401
561.355.6835
Palm Beach County Government Center
301 N. Olive Ave.
West Palm Beach, FL 33401
561.355.2754
Palm Beach County Property Appraiser
301 N. Olive Ave.
West Palm Beach, FL 33401
561.355.2861
Paul G. Rogers Federal Bldg. & U.S. Courthouse
701 Clematis Street #701
West Palm Beach, FL 33401
561.655.1827
Palm Beach County Health Department
701 Clematis Street
West Palm Beach, FL 33401
561.355.3145
PBC Judicial Center
205 N. Dixie Hwy.
West Palm Beach, FL 33401
561.355.2431
Tax Collector, Palm Beach County
P.O. Box 3715
West Palm Beach, FL 33401
561.355.2264
United States Senate
413 Clematis Street #210
West Palm Beach, FL 33401
561.514.0189
US Marshals Service
701 Clematis Street #215
West Palm Beach, FL 33401
561.655.1827
Waterfront Campus Manager
401 Clematis Street
West Palm Beach, FL 33401
561.822.1561
WPB Chamber of Commerce
401 N Flagler Drive
West Palm Beach, FL 33401
561.833.3711
WPB Downtown Development
300 Clematis Street, #200
West Palm Beach, FL 33401
+1 (561) 833.8873
West Palm Beach City Hall
401 Clematis Street
West Palm Beach, FL 33401
+1 (561) 822.1200
West Palm Beach Parking
500 Banyan Blvd.
West Palm Beach, FL 33401
+1 (561) 822.1500
WPB Fire Rescue
500 N. Dixie Hwy.
West Palm Beach, FL 33401
+1 (561) 804.4700
WPB Police Department
600 Banyan Blvd.
West Palm Beach, FL 33401
+1 (561) 822.1900
WPB Post Office
640 Clematis Street
West Palm Beach, FL 33401
+1 (561) 659.6331
WPB Public Library
411 Clematis St.
West Palm Beach, FL 33401
+1 (561) 868.7700
COFFEE / BAKERY
Return to Top
Cafe Sweets Bakery
505 Clematis Street
West Palm Beach, FL 33401
561.249.7167
Ganache Bakery and Café
120 S Dixie Hwy
West Palm Beach, FL 33401
561.507.5082
Johan's Joe Swedish Coffee House
401 S Dixie Hwy #3
West Palm Beach, FL 33401
561.808.5090
Paneterie
205 Clematis Street
West Palm Beach, FL 33401
561.223.2992
Paris Bakery & Cafe
212 S Olive Ave
West Palm Beach, FL 33401
561.820.9281
Starbucks
226 Clematis Street
West Palm Beach, FL 33401
561.655.9933
Subculture Coffee
509 Clematis Street
West Palm Beach, FL 33401
561.318.5142
CONDOS - OFFICE BUILDINGS
Return to Top
222 Clematis, LLC
222 Clematis Street
West Palm Beach, FL 33401
561.659.1800
Anthony Building
312 Clematis Street
West Palm Beach, FL 33401
561.659.1800
Comeau Building
319 Clematis Street
West Palm Beach, FL 33401
561.833.3108
Galleria Building
301 Clematis Street
West Palm Beach, FL 33401
561.832.4732
Harvey Building
224 Datura Street
West Palm Beach, FL 33401
561.655.1521
Via Jardin Building
330 Clematis Street
West Palm Beach, FL 33401
561.820.9700
FINANCIAL SERVICES
Return to Top
Amazon Investment Group
301 Clematis Street
West Palm Beach, FL 33401
877.484.4937
Addison Capital Management
319 Clematis Street
West Palm Beach, FL 33401
561.835.4041
PNC Bank
205 Datura Street
West Palm Beach, FL 33401
561.808.9487
SunTrust
501 S Flagler Drive
West Palm Beach, FL 33401
561.838.5110
FURNITURE / DESIGN
Return to Top
Design Within Reach
230 Clematis Street
West Palm Beach, FL 33401
561.833.1799
Framesmith Gallery Downtown
420-B Clematis Street
West Palm Beach, FL 33401
561.655.9069
Pioneer Linens
210 Clematis Street
West Palm Beach, FL 33401
561.655.8553
GROCERY
Return to Top
Green Olive Marketplace
244 S Olive Avenue
West Palm Beach, FL 33401
561.249.1353
Publix
375 S Rosemary Ave,
West Palm Beach, FL 33401
561. 651.7787
The Market on Clematis
306 Clematis Street
West Palm Beach, FL 33401
561.832.2302
West Palm Beach GreenMarket
101 South Clematis Street
West Palm Beach, FL 33401
561.822.1500
HEALTH / FITNESS
Return to Top
Center City Pharmacy
416 Clematis Street
West Palm Beach, FL 33401
561.805.7135
Fitness Hub Studios
312 Clematis Street, Suite 100
West Palm Beach, FL 33401
561.408.0885
Golden Therapeutics Holistic Wellness
224 Datura Street #613
West Palm Beach, FL 33401
772.233.1122

KickBox-SuperFIT
915 N Dixie Hwy
West Palm Beach, FL 33401
561.745.0007
Meraki Juice Kitchen
328 Fern St.
West Palm Beach, FL 33401
561.508.6640
Power Chiropractic
324 Datura Street, #145
West Palm Beach, FL 33401
561.659.6636
HOTELS
Return to Top
Hilton / Downtown
600 Okeechobee Blvd.
West Palm Beach, FL 33401
Reservations
Hyatt Place / Downtown
295 Lakeview Ave.
West Palm Beach, FL 33401
Reservations
Marriott / Downtown
1001 Okeechobee Blvd.
West Palm Beach, FL 33401
Reservations
Palm Beach Hibiscus
213 South Rosemary Avenue
West Palm Beach, FL 33401
Reservations
Residence Inn by Marriott
455 Hibiscus Street
West Palm Beach, FL 33401
Reservations
MEDIA / PUBLICATIONS
Return to Top
Daily Business Review
324 Datura St. #140
West Palm Beach, FL 33401
561.820.2060
Palm Beach Post
2751 S Dixie Hwy
West Palm Beach, FL 33405
561.820.4663
Sun Sentinel
324 Datura St. #106
West Palm Beach, FL 33401
561.228.5506
WestPalmBeach.com
The Worldwide Brand for West Palm Beach!
West Palm Beach, FL 33401
Contact
WPTV-Channel 5
1100 Banyan Blvd.
West Palm Beach, FL 33401
561.655.5455
WPEC- Channel 12
1100 Fairfield Drive
West Palm Beach, FL 33407
561.844.1212
NIGHTCLUBS / PUBS
Return to Top
123 Datura
American
123 Datura Street
West Palm Beach, FL 33401
561.814.5433
Camelot
114 S Narcissus Avenue
West Palm Beach, FL 33401
561.408.1001
Hookah Inn Lounge
527 Clematis Street
West Palm Beach, FL 33401
561.557.4371
Hookah Me Up
107 N Olive Avenue
West Palm Beach, FL 33401
561.401.6491
Loft Nightclub
221 Clematis Street
West Palm Beach, FL 33401
561.835.6661
O'Sheas Irish Pub
531 Clematis Street
West Palm Beach, FL 33401
561.833.3865
Pawn Shop
219 Clematis Street
West Palm Beach, FL 33401
561.833.6500
Respectable Street
518 Clematis Street
West Palm Beach, FL 33401
561.832.0706
Roxy's Pub
309 Clematis Street
West Palm Beach, FL 33401
561.296.7699
Voltaire
526 Clematis Street
West Palm Beach, FL 33401
561.408.5603
RESTAURANTS
Return to Top
123 Datura
American
123 Datura Street
West Palm Beach, FL 33401
561.814.5433
Avocado Grill
Small Plates & Comfort Classics
125 Datura Street
West Palm Beach, FL 33401
561.623.0822
Banko Cantina
Mexican
114 South Olive Avenue
West Palm Beach, FL 33401
561.355.1399
Batch New Southern
American
222 Clematis Street
West Palm Beach, FL 33401
561.708.0000
Clematis Pizza
Pizzaria
523 Clematis Street
West Palm Beach, FL 33401
561.655.6656
Duffy's Sports Grill
American
225 Clematis Street
West Palm Beach, FL 33401
561.249.1682
ER Bradley's Saloon
American
104 S. Clematis Street
West Palm Beach, FL 33401
561.833.3520
Field of Greens
Soups & Salads
412 Clematis Street
West Palm Beach, FL 33401
561.820.2465
Grease Burger Bar
American
213 Clematis Street
West Palm Beach, FL 33401
561.651.1075
Hullabaloo
American
517 Clematis Street
West Palm Beach, FL 33401
561.833.1033
Kabuki Sushi and Thai
Sushi / Thai
308 Clematis Street
West Palm Beach, FL 33401
561.833.6349
Kapow
Asian Fusion
519 Clematis Street
West Palm Beach, FL 33401
561.246.3827
Keese's Simply Delicious Restaurant
American-Mediterranean Grill
517 Clematis Street
West Palm Beach, FL 33401
561.328.9100
Leila Restaurant
Syrian and Lebanese
120 South Dixie Highway
West Palm Beach, FL 33401
561.659.7373
Lynora's
Italian
207 Clematis Street
West Palm Beach, FL 33401
561.899.3117
Nico's Pizza
Pizzaria
301 Clematis Street
West Palm Beach, FL 33401
561.296.5400
Oh My Chocolates
Chocolate & Gelato Shop
335 Clematis Street
West Palm Beach, FL 33401
561. 832.8017
Pipeline Poké Co
Poké / Hawaiian
310 S Dixie Hwy, Ste 300
West Palm Beach, FL 33401
561.899.3288
Pistache
French Bistro
101 N. Clematis Street
West Palm Beach, FL 33401
561.833.5090
Pizza Girls
Pizzaria
114 S. Clematis Street
West Palm Beach, FL 33401
561.833.4004
Ristorante Santucci
Italian
610 Clematis Street, #1
West Palm Beach, FL 33401
561.337.2532
Rivales Taqueria
Mexican
106 North Olive Avenue
West Palm Beach, FL 33401
561.345.3737
Rocco's Tacos
Mexican
224 Clematis Street
West Palm Beach, FL 33401
561.650.1001
Sloan's
Ice Cream Shop
112 Clematis Street
West Palm Beach, FL 33401
561.833.3335
Sourbon Kitchen & Bar
Contemporary American
215 Clematis Street
West Palm Beach, FL 33401
561.247.7101
Sushi Yama Asian Bistro
Sushi / Asian
330 Clematis Street
West Palm Beach, FL 33401
561.355.0332
SPECIALTY SHOPS
Return to Top
Bechtels Jewelry
410 Evernia Street, #112
West Palm Beach, FL 33401
561.655.8255
Downtown Vapes
420 Clematis Street
West Palm Beach, FL 33401
561.328.6243
Extra Touch Flowershop
420 Clematis Street
West Palm Beach, FL 33401
561.835.8000
Got Ink Studios Tattoo Shop & Art Gallery
221 South Olive Avenue
West Palm Beach, FL 33401
561.507.5727
Water Street Tattoo, Inc
330 Clematis Street
West Palm Beach, FL 33401
561.841.6634
THEATERS / PLAYS
Return to Top
Actor's Rep
1000 N. Dixie Highway
West Palm Beach, FL 33401
Schedule & Tickets
Palm Beach Dramaworks
201 Clematis Street
West Palm Beach, FL 33401
561.514.4042
Palm Beach Opera
415 S. Olive Avenue
West Palm Beach, FL 33401
561.833.7888
WINE BARS / BREWERIES
Return to Top
American Craft Aleworks
200 Clematis Street
West Palm Beach, FL 33401
561.425.5799
The Blind Monk
410 Evernia Street, #107
West Palm Beach, FL 33401
561.833.3605
Fern Street Wine Bar & Kitchen
501 Fern Street
West Palm Beach, FL 33401
561.629.4006
West Palm Brewery & Wine Vault
332 Evernia Street
West Palm Beach, FL 33401
561.619.8813