West Palm Beach Hotels & Best Rates

Palm Beach Shores Resort & Vacation Villas
181 Ocean Avenue, West Palm Beach, FL
Neighborhood:  North Palm Beach Oceanfront – Singer Island
Click Here for their Best Rates!
Singing the praises of a Singer Island beachfront address and toasting the tiki bar and cool pool, our guests give the digs at Palm Beach Shores Resort & Vacation Villas a ringing endorsement. The six-floor Palm Beach Shores Resort & Vacation Villas is a timeshare property that's home to 260 suites with full kitchens, sophisticated designer flair, two-room layouts and an open, airy feel. Private balconies with ocean and poolside views provide a pleasant diversion, as do free high-speed internet and not one but two cable TVS with DVD players. Non-smoking units are available. Speaking of diversions, it seems there's no shortage of activities ….more
Hyatt Place West Palm Beach/Downtown
295 Lakeview Avenue, West Palm Beach, FL
Neighborhood: Downtown West Palm Beach
Click Here for their Best Rates!
What makes the Hyatt Place West Palm Beach / Downtown an excellent choice? Where do we start?! Location, location, location! Well, OK, so that's just for starters as the Hyatt Place West Palm Beach IS ideally situated in downtown where shopping, dining, entertainment, attractions and nightlife are ALL plentiful! But there's so much more. Guests often leave positive feedback -and- examples include, "Staff was amazing," "The customer service was wonderful,"  …more
DoubleTree by Hilton Hotel West Palm Beach Airport
1808 South Australian Avenue, West Palm
Neighborhood: Palm Beach Airport (PBI) – Downtown
Click Here for their Best Rates!
The DoubleTree by Hilton Hotel West Palm Beach Airport is a perfect option if you want to be close to the Palm Beach International Airport while also being near shopping, restaurants and attractions. The (PBI) airport is just a little over two miles away and a complimentary shuttle bus is available for your convenience. The DoubleTree also offers a complimentary downtown West Palm Beach shuttle service. Just a few miles away, you can spend hours shopping and dining at CityPlace, the Clematis Street district and the Palm Beach Outlets. …more
Hawthorn Suites West Palm Beach
301 Lamberton Drive, West Palm Beach
Neighborhood: Palm Beach Airport (PBI) – Palm Beach Lakes
Click Here for their Best Rates!
Guest-pleasing amenities at the npn-smoking Hawthorn Suites West Palm Beach include hot breakfast on the house, an outdoor pool and rooms with kitchenettes and free Wi-Fi. All 112 rooms on six floors at the non-smoking Hawthorn Suites contain flat-panel TVs, DVD players, free Wi-Fi and fully equipped kitchenettes with full-size refrigerators. Enjoy breakfast from the complimentary continental buffet each morning. Relax in the heated outdoor pool, stay in shape in the fitness room or take care of work at the business center, which includes copy service. …more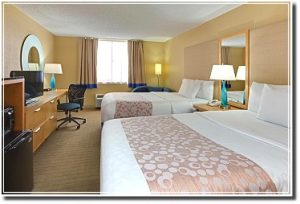 La Quinta Inn and Suites West Palm Beach
1910 Palm Beach Lakes Boulevard, West Palm Beach, FL
Neighborhood: Palm Beach Airport – Palm Beach Lakes
Click Here for their Best Rates!
Located on Palm Beach Lakes Boulevard in West Palm Beach and just west of I-95, the La Quinta Inn and Suites is a great option whether you're here for work or play. It's less than 5 miles from the Palm Beach International Airport and just north of downtown West Palm Beach. A complimentary airport shuttle is provided. Room features include coffee makers, mini-fridges, microwaves, free Internet access, an easy way to connect electronics to the TV using a "Plug-and-Play" feature, hair dryers, work desk and more. Hotel amenities include an outdoor swimming pool, business center, free parking, express checkout, and more. The La Quinta Inn & Suites meets ADA specifications. …more
West Palm Beach Marriott
1001 Okeechobee Boulevard, West Palm Beach, FL
Neighborhood:  Downtown West Palm Beach
Click Here for their Best Rates!
The West Palm Beach Marriott is located in downtown West Palm Beach, just east of I-95. It's situated in a convenient location – walkable to the Kravis Center for the Performing Arts, CityPlace and the Palm Beach County Convention Center. Clematis Street and the West Palm Beach Waterfront are minutes away along with attractions such as the Norton Museum of Art, Palm Beach Zoo, Worth Avenue in Palm Beach as well as gorgeous South Florida beaches. The Palm Beach International Airport is about 4 miles away and on request, a complimentary airport shuttle service can be provided. This is a non-smoking hotel. …more
Hilton West Palm Beach
600 Okeechobee Boulevard, West Palm Beach, FL
Neighborhood: Downtown West Palm Beach
Click Here for their Best Rates!
The Hilton West Palm Beach is ideally located in downtown and conveniently close to superb shopping, great entertainment, amazing restaurants, exciting nightlife and top-notch attractions. This AAA Four Diamond hotel is connected to the Palm Beach County Convention Center and in addition to its guest rooms, offers suites, executive rooms and mobility accessible rooms – all of which are beautifully designed. All rooms have a mini-fridge, flat screen TV, free Wi-Fi, and ergonomic chair and …more
Embassy Suites West Palm Beach
1601 Belvedere Road, West Palm Beach, FL
Neighborhood:  Palm Beach Airport – Downtown
Click Here for their Best Rates!
Embassy Suites by Hilton located in West Palm Beach, FL is just west of I-95, about a mile from the Palm Beach International Airport and just minutes from beautiful downtown West Palm Beach and its attractions, shopping and night life. One and two-room spacious suites are available and both offer a sofa bed, dining/work table, microwave, mini-fridge, two flat-screen TVs, and complimentary WiFi. Complimentary cooked-to-order breakfast is offered each morning and every night …more
Quality Inn West Palm Beach
1505 Belvedere Road, West Palm Beach, FL
Neighborhood:  Palm Beach Airport (PBI) – Downtown
Click Here for their Best Rates!
Headed to West Palm Beach and want to be close to both the Palm Beach International Airport and downtown West Palm Beach? Then you'll want to check out Quality Inn West Palm Beach. This three story, 135 room hotel is conveniently located about a mile and a half northeast of the airport, half a mile west of I-95 and a five minute drive to downtown. Perfect! Quality Inn offers a complimentary airport shuttle, free Wi-Fi, free parking, free morning continental breakfast, freshly baked cookies at night along with coffee and tea being offered at all times. Want to bring your pet to West Palm Beach? Great!  …more
The Chesterfield Palm Beach
363 Cocoanut Row, Palm Beach, Florida 33480
Neighborhood: Palm Beach
Click Here for their Best Rates!
The Chesterfield Palm Beach is ideally situated on the island of Palm Beach in a beautiful residential setting. It's located within close proximity to South Florida beaches, Henry Morrison Flagler Museum, The Society of the Four Arts, S Flagler Drive (West Palm Beach Waterfront), world famous shopping on Worth Avenue, downtown West Palm Beach's Clematis Street and CityPlace where shopping, restaurants and nightlife are plentiful. Amenities include: Free WiFi, bar/lounge, restaurant, outdoor pool, spa tub, free use of nearby fitness center, conference space, pet friendly, 24-hour room service, free valet parking. Rooms include LCD televisions, down comforters and Egyptian cotton sheets …more!
Want your hotel property promoted on WestPalmBeach.com? Contact Us!