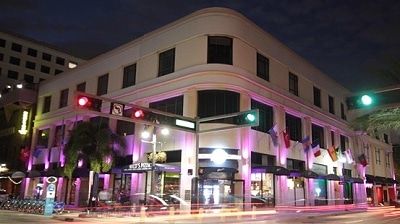 Located on Clematis Street in downtown West Palm Beach, the Galleria was built in 1937 and designed by Palm Beach architect John Volk who also designed Good Samaritan Hospital, the Bath and Tennis Club, Palm Beach Town Hall, Poinciana Plaza and Playhouse and much of Worth Avenue. Property Manager Angela Lastorino tells us more about the Galleria, its history and impact on Clematis Street.
Frankee Cuzzola: Please tell our readers a little about yourself.
Angela Lastorino: I attended college and earned my degree at the Fashion Institute of Technology in Manhattan before working as a sales person for Izod Lacoste. I then managed an Executive Suite for one of the major New York City real estate firms before moving to sunny Florida and managing the Galleria fifteen years ago.
What are some of your favorite historical anecdotes about the Galleria?
Actually, the history of the building itself and how it came to be. The original building was in created in 1915 and was two separate buildings. One housed the Post Office! The two buildings were consolidated in 1936.
What is your favorite part of the Galleria restoration?
I love how they changed the building to the current Modern Art expression maintaining its architectural integrity and status as a downtown West Palm Beach landmark.
Who are some of the notable tenants of the Galleria, past and present?
We had so many notable people in the building: from architects to entrepreneurs, law firms, media companies, retail stores and even a gelato place. Some notable tenants include Bloomberg, Shipsticks and the Downtown Development Authority. Today, the Galleria is home to ReMax, Nico's Pizza, HomeMag and many other companies including law firms, arbitrators, court reporters, non-profits and small businesses. Our tenants are incredibly diverse and help each other with their business needs.
How did the Galleria come to be on the National Register of Historic Places?
Owner Ralf Gschwend purchased the building in 1993 and investigated its history, which is really quite fascinating. In the late 1930's the building became Hatch's Department Store. This was bought out by the Burdines chain in the early 1940s. The Galleria has also housed several other prominent businesses including Pioneer Bank.
The present Galleria was built in 1937 and designed by Palm Beach architect John Volk. What other buildings has he designed?
John Volk designed more than one thousand buildings for public and commercial use including Good Samaritan Hospital, the Bath and Tennis Club, Palm Beach Town Hall, Poinciana Plaza & Playhouse and much of Worth Avenue. He also served as architect-engineer to restore the Breakers after its use as an army hospital during World War II. In 1947, he designed the Embassy Club on Royal Palm Way into the Society of the Four Arts building. His residential clients included the families of Vanderbilt, DuPont, Ford, Dodge and Pulitzer.
How do you feel the Galleria has impacted Clematis Street, then and now?
This building started out as Hatch Department Store. When purchased in 1993 it was refurbished into the beautiful retail and office building it is today. Many people call us "the West Palm Beach embassy" because of the many flags that we have around the building. I think the impact on Clematis Street is a visual one. The Galleria is a meeting point, a place everyone knows and references as a Clematis landmark.
How do you envision the future of Clematis Street?
I love the new 300 block with lots of walking space and trees. I think Clematis Street is experiencing a renaissance in terms of walkability.
What advice can you give our readers, who may be looking for office space to lease in the Galleria and Clematis Street?
The Galleria International Building is located in the scenic heart of Downtown West Palm Beach. It has the most prestigious address and we offer short and long term leasing with some of best rates in town. Here you can find not only office space, but business partners among the other tenants.
What do you love most about downtown West Palm Beach?
The convenience of everything within walking distance and the diversity of people, restaurants and businesses.
WestPalmBeach.com: The Complete Guide to West Palm Beach, FL!