Tortuga Tickets 2023! Fort Lauderdale Beach
TICKETS, 3 Day Pass
Tortuga Music Festival 2023 at Fort Lauderdale Beach Park in South Florida April 14, 15, 16, 2023. Tickets, 3 Day Passes on sale! Upgrades may be available (Super VIP, VIP). Check links for premium ticket options and availability. The 2023 lineup includes Eric Church, Shania Twain, Kenny Chesney, Wiz Khalifa, Cole Swindell, Carly Pearce, Jake Owens, Brett Young, The Wallflowers, Justin Moore, and MANY MORE! See the lineup below.
Get Tortuga Tickets! Buy TRUSTED Tickets on WestPalmBeach.com backed by a 100% Money-Back Guarantee! Safe and Secure Checkout. Your tickets will arrive before the event. Your tickets will be valid for entry.
Tortuga Music Festival 2023 Fort Lauderdale Dates, Tickets, 3 Day Pass
Three Day Pass
April 14, 15, 16, 2023
Buy 3 Day Passes
Fri, April 14 Single Day Tickets
Headliner: Eric Church
Buy 4/14 TICKETS
Sat, April 15 Single Day Tickets
Headliner: Shania Twain
Buy 4/15 TICKETS
Sun, April 16 Single Day Tickets
Headliner: Kenny Chesney
Buy 4/16 TICKETS
The 2023 Tortuga Festival Daily Lineup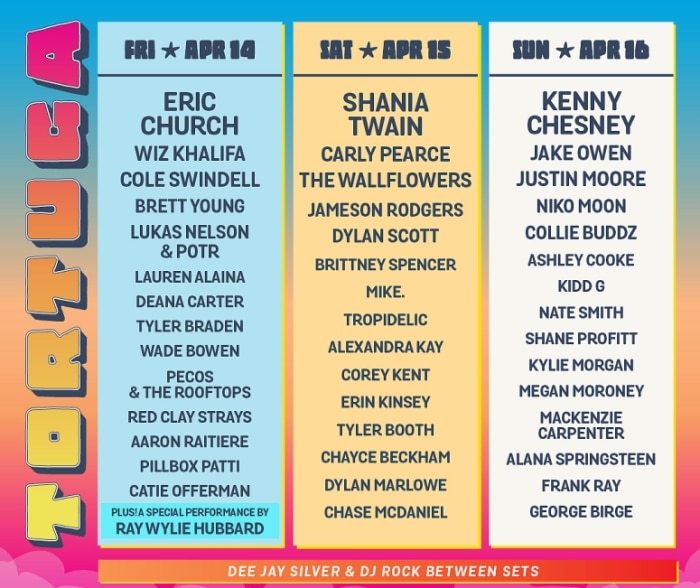 S FL Concert & Show Tickets
S FL Music Festivals
Need ticket assistance? Contact customer support: 833-215-5118
Need a hotel while in Fort Lauderdale for the Tortuga Festival?
GUARANTEED Lowest Rates for Ft. Lauderdale Hotels!
WestPalmBeach.com: The Official Guide to West Palm Beach, Florida!
Related Events