West Palm Beach Green Market
Nancy M Graham Centennial Square
101 South  Clematis Street
West Palm Beach, FL 33401
561.822.1500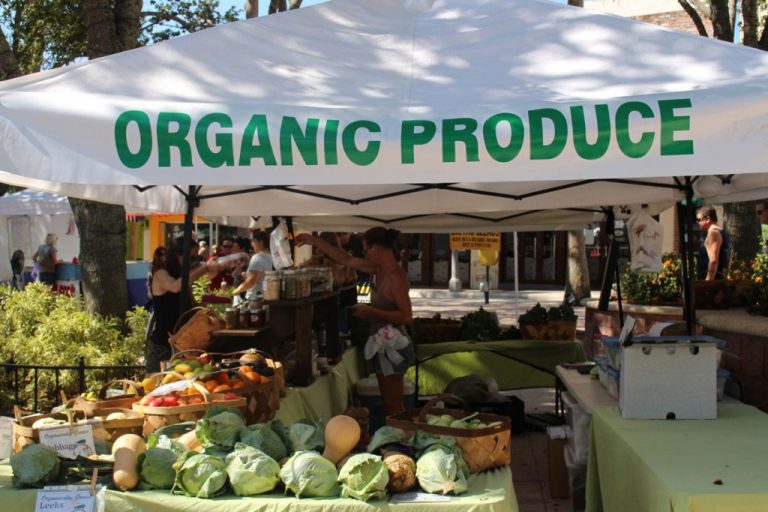 The West Palm Beach Green Market takes place every Saturday from 9am until 1pm, October through April. It features more than 90 vendors in its scenic location on the waterfront where Clematis Street meets the Intracoastal (the main entrance is located in Centennial Square near the fountain at the intersection of Clematis and Narcissus Avenue – see downtown map). The Green Market offers the freshest Palm Beach County organic produce, baked goods, herbs, teas, flowers and crafts.
There is free parking available in the Banyan Street and Evernia Street garages during market hours. This is a unique event where one can meet the locals, walk your pet (leashes are mandatory), sit on the grass while gazing at the boats on the picturesque Intracoastal Waterway, listen to music and snack on delicious homemade Florida treats.
The West Palm Beach Green Market supports the southeast Florida agricultural community and stimulates agricultural development, particularly in Palm Beach County, by providing an outlet for locally grown crops and specialty products. It is one of downtown West Palm Beach's most popular seasonal attractions and you should arrive early to insure parking and the best selection of produce and goods.
Article: West Palm Beach GreenMarket voted the best farmers market in America by USA Today.
WestPalmBeach.com: The Essential Guide to West Palm Beach, Florida!