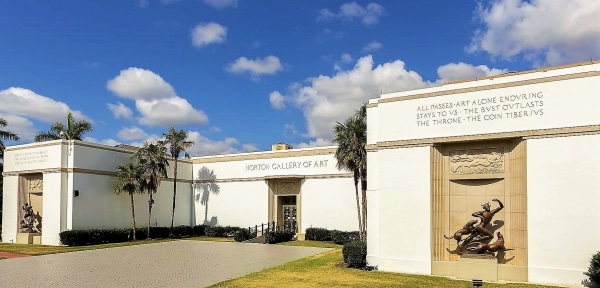 Norton Museum of Art
1451 South Olive Avenue
West Palm Beach, FL 33401
Tues-Sun: Noon-5pm (Closed Mon)
Tickets/Information: 561.832.5196
WestPalmBeach.com Spotlight: J. Rachel Gustafson of the Norton Art Museum
The Norton Museum of Art has been recognized internationally for its travelling exhibitions and expansive collections of over 7,000 works, including European Impressionists and Modern Masters, American art from 1900 to the present, an extensive collection of works on paper and a rich body of sculpture. The Chinese collection offers superb examples of carved jades and bronze vessels and the contemporary collection embraces art from the 1960's on. Today's most revered and history's most innovative photographers are featured in the photography collection. Annually, the Norton Museum presents engaging and exciting collection and exhibition related talks, concerts, and programs for children and adults.
The Norton Museum of Art was founded in 1941 by Ralph Hubbard Norton (1875–1953) and his wife, Elizabeth Calhoun Norton (1881–1947). Norton, the former head of the Chicago-based Acme Steel Co., moved to West Palm Beach upon retirement and decided to share his sizable collection of paintings and sculpture. The late Art Deco / Neoclassical building designed by Marion Sims Wyeth opened its doors to the public on February 8, 1941. Its mission statement is "to preserve for the future the beautiful things of the past."
American Art
The Museum's collection of American paintings, sculpture, and works on paper contains approximately 1,000 works of art dating from the 18th century to 1960, with particular strength in the early 20th century. Artists featured include George Bellows, Charles Demuth, Georgia O'Keeffe, John Marin, Robert Motherwell, and Charles Sheeler.
Chinese Art
The Museum's collection of Chinese Art features over 600 objects including a Ritual Wine Pouring Vessel (Guang) in the form of a dragon, which is a composite of many powerful creatures—tiger, bear, elephant, bird, and antelope; as well as a Bowl with the Seven Buddhas of the Past, commissioned in 1777 by the wealthiest and most powerful man of the 18th century, the Qianlong Emperor (reigned 1735–1796).
Contemporary Art
The Contemporary Art collection features the 1968 canvas by Frank Stella, Yazd II (Khurasan Gate Stretch Variation) as well as American and European artists such as Lucio Fontana, Imi Knoebel, Sol LeWitt, John McCracken, Dan Flavin, William Kentridge, Yinka Shonibare, Kara Walker, Joseph Beuys and Nick Cave.
European Art
The Museum's Collection of European Art comprises paintings, sculpture, and works on paper ranging from 1450 to 1950 including Betrayal (1515) by Lucas Cranach I, the Study for the Head of Saint John the Evangelist (1611-1612) by Peter Paul Rubens, and the portrait of Philip, Lord Wharton (1639) by Anthony van Dyck. Impressionist and later Modernist works include the Gardens of the Villa Moreno, Bordighera (1884) by Claude Monet, Christ in the Garden of Olives, (1889) by Paul Gauguin, The Sailors' Barracks (1914) by Giorgio de Chirico, and significant paintings and sculptures by renowned artists Constantine Brancusi, Georges Braque, Marc Chagall, Henri Matisse, and Pablo Picasso.
Photography
The Museum's Photography collection boasts 3,000 photographs that span the history of the medium featuring photography by Alexander Rodchenko, August Sander, Albert Renger –Patzch, Lazlo Moholy-Nagy, Gyorgy Kepes, Bernd and Hilla Becher, Danny Lyon, Larry Clark, William Eggelston, Dave Heath, Ralph Gibson, Sophie Calle, Tacita Dean, Thomas Demand, Gilbert and George, Candida Höfer, Alfredo Jaar, Hiroshi Sugimoto, and Jeff Wall.
In 2003, the Norton Museum of Art overtook the John and Mable Ringling Museum of Art, in Sarasota, as the largest museum in Florida.
For more information, please visit: Norton.org
WestPalmBeach.com: The Essential Guide to West Palm Beach, Florida!