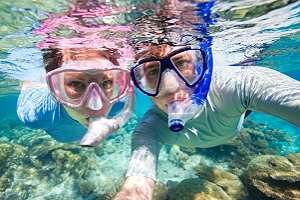 WEST PALM BEACH SNORKELING
Peanut Island Shuttle Boat
200 East 13th Street, Riviera Beach, FL 33404
Click Here for West Palm Beach Snorkeling Discount!
Fantastic three hour guided snorkel trip! Peanut Island Shuttle Boat offers a variety of activities to do on the island. During our trip you might catch a glimpse of manatees, sea turtles, and more. The breath-taking views include beautiful beaches, lagoon, snorkeling reefs, and scenic walking trails. The island is dog-friendly so one shouldn't hesitate to bring their best friend with them!
The snorkeling around Peanut Island, just offshore from Singer Island, is excellent. The water is crystal clear and teaming with sea life. Peanut Island is famous as the home of JFK's underground bunker in case of a nuclear attack while visiting his Palm Beach home (the bunker is currently closed to the public)  …more
WestPalmBeach.com: The Essential Guide to West Palm Beach, FL!